free powerpoint to html5
interactive html5 presentation
html5 presentation publisher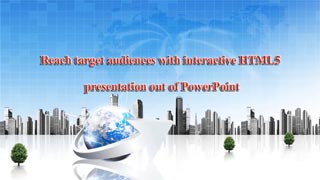 Quick Tour of Slide HTML5
Why Slide HTML5?
For a long time, Microsoft PowerPoint has been the absolute first choice for creating and presenting content. And as for me, I am of no exception for I have been using MS PowerPoint for almost any of my presentations. We all loved PowerPoint because it was so powerful and fun. We once thought it was and would still be the best presentation publishing tool. We were recommended with MS PowerPoint and at that time, all we could have is MS PowerPoint.
After so many years of overuse of MS PowerPoint, we are getting bored with the same style. I mean, though it is easy to change the design, colors, transitions and fonts, the PPT presentations play in the same way. And, it was never easy to make presentation available to the audience on the other side of the world and we had to email a large size file to them. However, things changed and MS PowerPoint is no longer the only choice. As time goes by, HTML5 is rising out of limited technologies.
HTML5 as a new option has brought revolutionary changes to how we create, deliver and display our presentation content. It makes it extremely simple and easy to reach target audiences. And it has obvious advantages over Microsoft PowerPoint presentation. For example, it is more flexible and one can stylize his presentation that is definitely different with PowerPoint presentation. Yet, it is said that "HTML5 = HTML + CSS + JS". That means, HTML5 is not flawless and it has its drawbacks, of which it requires web coding skills.
Fortunately, there is a solution to save you both troubles. There is why I post this article today. With
free PowerPoint to HTML5
presentation publisher, you do not do any coding work but you can create interactive HTML5 presentation that displays anywhere to reach your target audiences.
More Amazing Examples Created by SlideHTML5







How free PowerPoint to HTML5 converter help you reach target audiences?
1. Easy & Effective
With an HTML5 presentation converter like Slide HTML5, you can do what you do best. You just need to focus on creating the content and never get distracted by any hassle like coding. The user-friendly user interface and powerful edit tools can make a plain presentation extraordinary. You just need to identify your target audiences and create custom content that resonates with them. For example, you can divide your audience by region and present your content in their native languages. All these will take you a matter of a few minutes.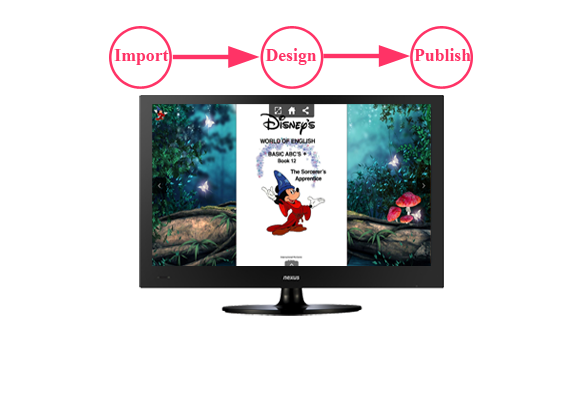 2. Visible & Social
Usually you would like to upload your PowerPoint presentation to your server or to SlideShare.net for the sake of enabling others to access it. But this requires readers to open it again or jump SlideShare.net. Now, imagine if your HTML5 presentation displayed right there on your web page interactively and dynamically. Yes, you can embed the presentation onto the web page and keep your audiences there reading your audience-oriented content. To increase visibility, you can integrate the presentation with social share ability and make it a big noise on Facebook, Twitter, Google+ and other social websites.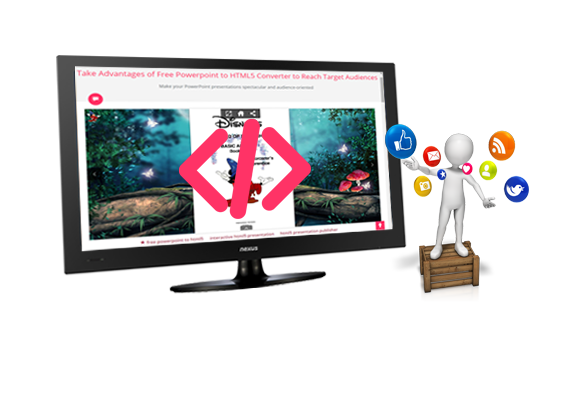 3. Accessible & Responsive
Unlike MS PowerPoint, free PowerPoint to HTML5 converter can make your presentation a friend to all platforms and devices. The presentation including the embedded video and other multimedia can run seamless on almost any screens of desktop computers, laptops, tablets and mobile phones. All without viewing software but just a browser. In addition, it is possible to make offline versions to present to the audience without Internet. And you do not have to worry about the experience because it is responsive and will not get tweaked.